A man arrested by Oklahoma City Police has been charged after allegedly repeatedly punching an officer until they lost consciousness, according to the department.
The department said officer Morgan Reynolds was attacked by 26-year-old DeAngelo Wright on Thursday while responding to a domestic call.
Wright was arrested hours later on several complaints including aggravated assault and battery on a police officer, and is being held on a $10 million bond.
Reynold's mother said she sustained a broken jaw and multiple facial fractures.
Her mother thanked the community for their support in a Facebook post on Sunday, saying in part that Reynolds, "is out of surgery and doing good."
An Oklahoma City Police officer is still recovering in the hospital days after she was brutally attacked while responding to a 911 call. News 4 is learning this was not the suspect's first violent run in with the law.
"When she stopped moving, that's when I got scared," said Perrishea Smith.
Smith said on April 27th she was drinking with her friends and DeAngelo Wright at her apartment near NW 19th and Ann Arbor. She said the atmosphere turned aggressive after Wright started fighting with her friends.
Smith said Wright then choked her and lifted her off the ground. According to court documents, "she was strangled for 10-15 seconds before he released her."
Oklahoma City Police checked on Smith a couple times before, but Wright had run off. During the third check, the police department said two officers were sent to the home, but Sgt. Morgan Reynolds got there first.
Police body camera video shows when Sgt. Reynolds tried to pat Wright down to check for weapons, he attacks her.
According to court documents, he "punched her 3-5 times in the face. Ofc. Reynolds was standing and attempted to defend herself but was knocked unconscious and fell to the floor on her back.
DeAngelo mounted on top Officer Reynolds and continued to punch her in the face while she was defenseless and unconscious."
"Oh my god! Get off of her! Stop!" screamed Smith in the body camera video.
"I thought she was dead in my apartment. She was unconscious for like 5 minutes," Smith told News 4. "Her eyes were bleeding."
Officers said a witness tried to stop Wright. The suspect attacked them too.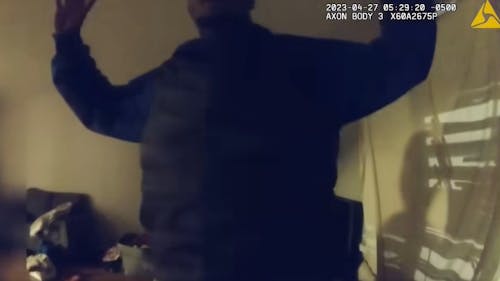 "When he got done with her, he ran to the back and he started fighting his cousin," Smith said.
Fearing she was next, Perrishea knew she had to get help. She ran out of the apartment and found the second responding officer.
"I had an asthma attack. I was hyperventilating. I lost it," said Smith.
According to court documents, "Officer Reynolds was treated at OU medical center and suffered a possible skull fracture, orbital fracture, concussion, fractured jaw, and several broken teeth."
"My heart goes out to her and her family. I'm sorry," said Smith.
Smith said she has been evicted from her apartment because of Wright. She is now living in a hotel.
This wasn't Wright's first fight with police. In 2021, Muskogee police said they responded to a local Walmart where Wright was punching a woman's windshield while she was still in the car. Police said he punched two officers in the head.
"That officer had to get stitches in one of his elbows and was also treated for a possible head injury," said Officer Lynn Hamlin, with the Muskogee Police Department. "He kicked several of the jailers that were attempting to get him into their custody."
He was charged with two counts of assault and battery on a police officer. Both were later dismissed.
Wright ended up pleading guilty to a charge of resisting an officer and was led out with time served.
The new DA said he was not the prosecutor at the time, but it appears Wright didn't have the criminal history he does now. Since then, he's had several other convictions in Oklahoma County and has spent less than one year in prison.